Must-visit Rhodes beaches: Our ultimate Top 10
Fact: Rhodes beaches have the superpower to please everyone!
Do you think we're exaggerating?
Well, let's just say that the variety of Rhodes beaches is as wide as the variety of Rhodes hotels!
The diversity of Rhodes beaches is indeed incomparable. Pebbled, sandy, isolated, crowded, big and small, there is an option for every taste!
But, let us guess.
You're a dummy when it comes to the best beaches in Rhodes, right?
No worries. By the end of this blog post, you'll be an expert!
Shall we start?
1. Anthony Quinn beach Rhodes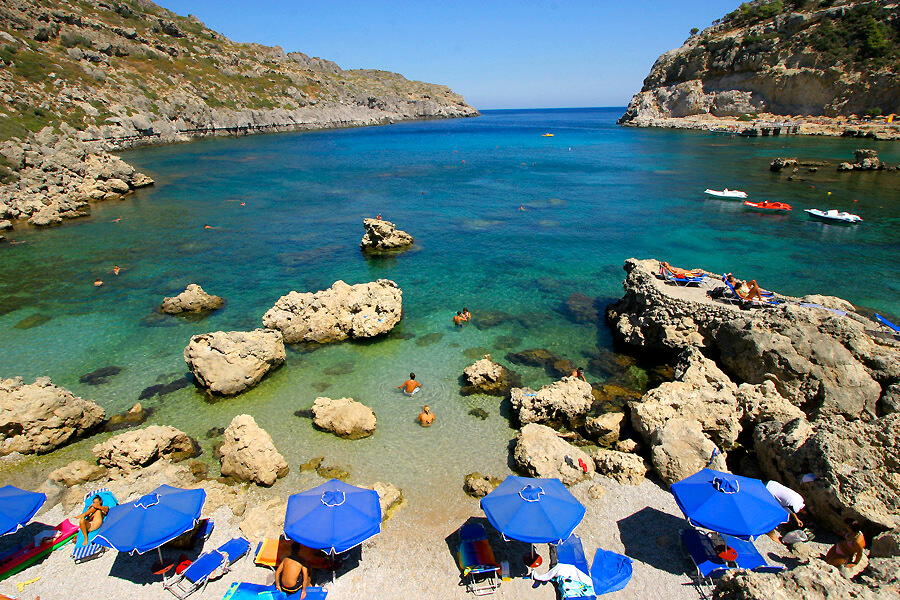 Interesting name, isn't it?
In fact, the original name of Anthony Quinn beach was Vagies beach. However, after "The Guns of Navarone" was filmed there, its name changed after the name of the lead actor.
This is, hands down, one of the most famous Rhodes beaches! It is located between Faliraki beach and Ladiko beach, 20 km away from Rhodes town.
The best part?
This beach is considered to be the perfect place for diving and snorkeling. What's more, it is one of the most relaxing beaches in Rhodes. The gorgeous natural landscape, the warm water, the sunbeds, and umbrellas create a uniquely peaceful atmosphere!
2. Tsambika beach Rhodes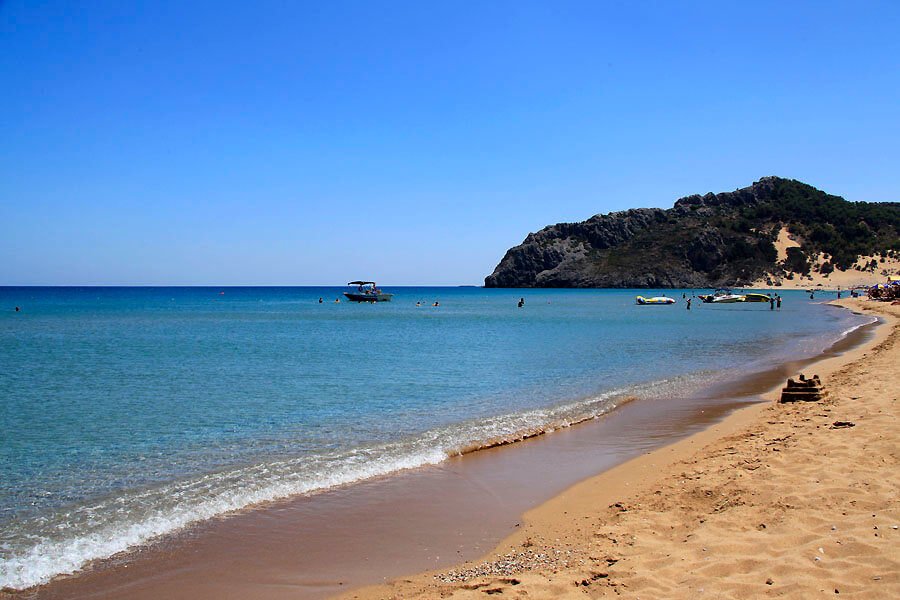 Well, this is a stunning beach!
Picture this. A big sandy beach with emerald waters, located right under Tsambika mountain and Monastery! Trust us, it will leave you in awe.
This secluded beach has both warm water and a breathtaking landscape. You know this is a killer combination!
Tsambika beach is a great place to relax under the sun and sunbathe all day long! But if sunbathing isn't your jam, there's also a great variety of water sports you can try.
Tip: You can reach Tsambika beach by small boats departing from Rhodes town, doing daily cruises to Rhodes beaches.
3. Ladiko beach Rhodes
This cute little bay will steal your heart!
Just imagine emerald waters surrounded by small cliffs, soft sand and a little tavern located on the beach.
Sounds like a painting theme?
It is!
Truth is Ladiko beach gets crowded by tourists, especially Italians, in August. But, if you are in a relaxed mood, you can enjoy your day at the rocky coast opposite to Ladiko beach.
4. Faliraki beach Rhodes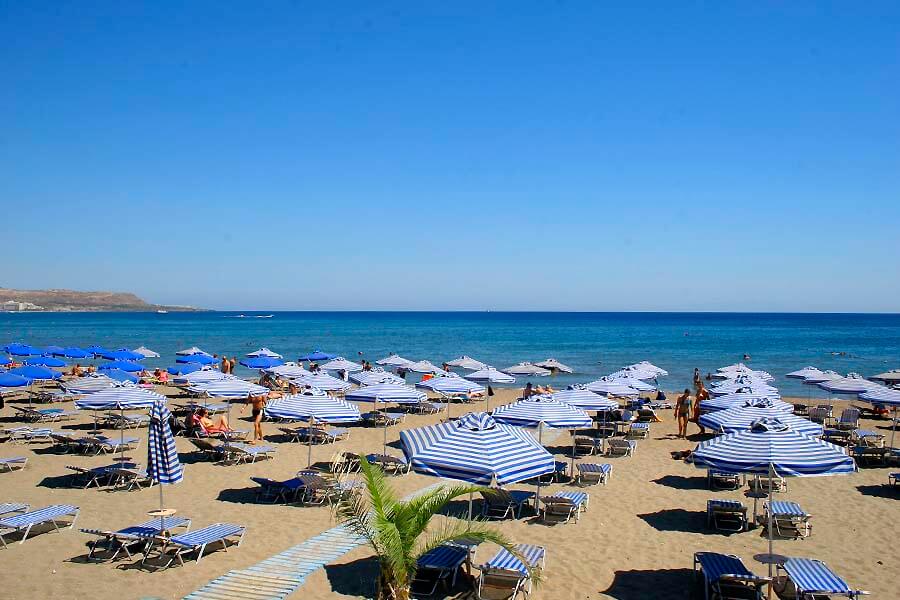 Time for a cosmopolitan resort!
This is a sandy 4 km long beach,16 km away from Rhodes town. The best part is, this is the most popular and organized Rhodes beach with lots of umbrellas and sunbeds. What's more, you can find many restaurants, cafes, beach bars and luxurious hotels around. We're talking about the ultimate beach experience!
Are you in a mood for a waterpark?
At Faliraki beach, you'll find Faliraki Waterpark! This is the biggest water park in Europe and there's a reason for this: Several water slides guarantee you'll have the most adventurous time! Moreover, it has facilities such as solarium, cafes, and restaurants.
5. Kallithea beach Rhodes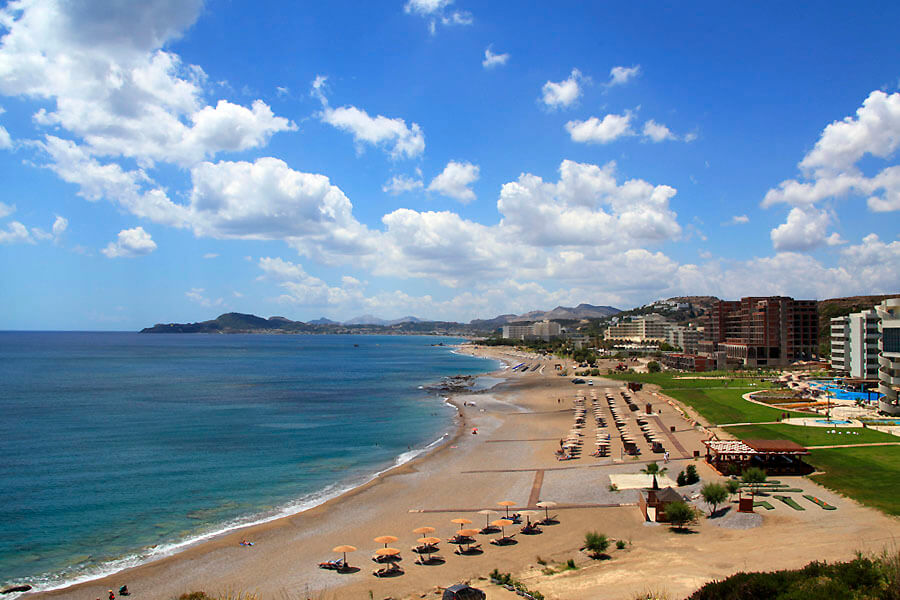 No wonder why Kallithea beach is one of the locals' favorite choices for swimming.
The scenery of this beach is idyllic. Small bays and coves surrounded by palm trees and pine trees, leading to a beautiful sea with calm emerald waters.
What's more, Kallithea is popular for "Loutra", the hot medical springs located near the beach. Even though they don't function anymore, they are being reconstructed at the moment.
The best part about Kallithea beach?
It's just 8 km away from Rhodes town!
6. Elli beach Rhodes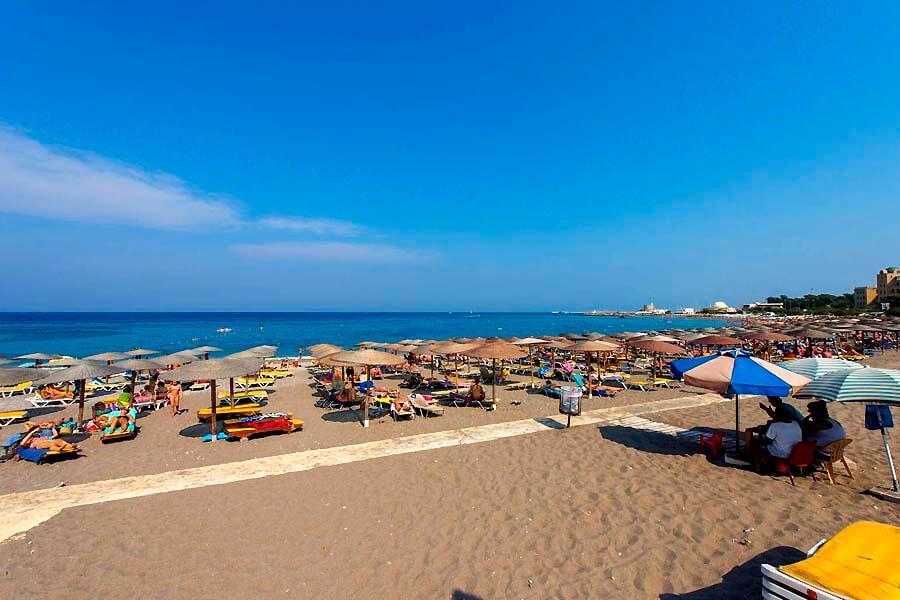 Can you think of anything more convenient than a beach close to the city center?
Nah, neither can we!
You might have already guessed it. The best part about Elli beach Rhodes is its walking distance from Rhodes town. What's more, at this beach you'll feel all them 70's vibes! Cool, isn't it?
Hundreds of tourists and locals visit Elli beach every day to enjoy the sea and the sun. Sunbeds, umbrellas, restaurants, luxurious Rhodes hotels with pools… It's not a surprise that Elli beach is considered as one of the most beautiful Mediterranean beaches!
Trivia: Elli beach attracts many photographers, who are mesmerized by its panoramic view!
7. Afandou beach Rhodes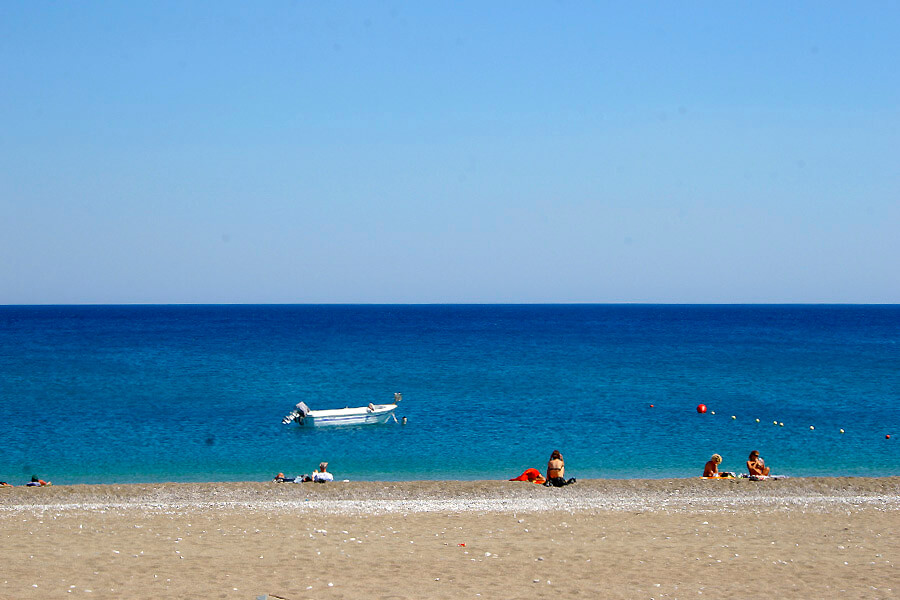 This is a stunning long sandy beach and one of the most popular Rhodes beaches!
Just imagine a huge shore with pebbles and deep blue waters! Amazing isn't it?
Afandou beach is also a very good option for families. This is because its length offers the perfect conditions for endless beach games. But apart from families, this beach is very popular to golf lovers, as Afandou Golf Club is located there.
Do you love beach sports activities?
Then take advantage of the beach soccer and beach volley courts located at the beach!
Bottom line: this beach is organized with umbrellas and sunbeds. This means there are the perfect conditions to enjoy a long lazy day on the beach. Alternatively, you can find your own isolated spot, away from the crowd to relax!
8. Agathi beach Rhodes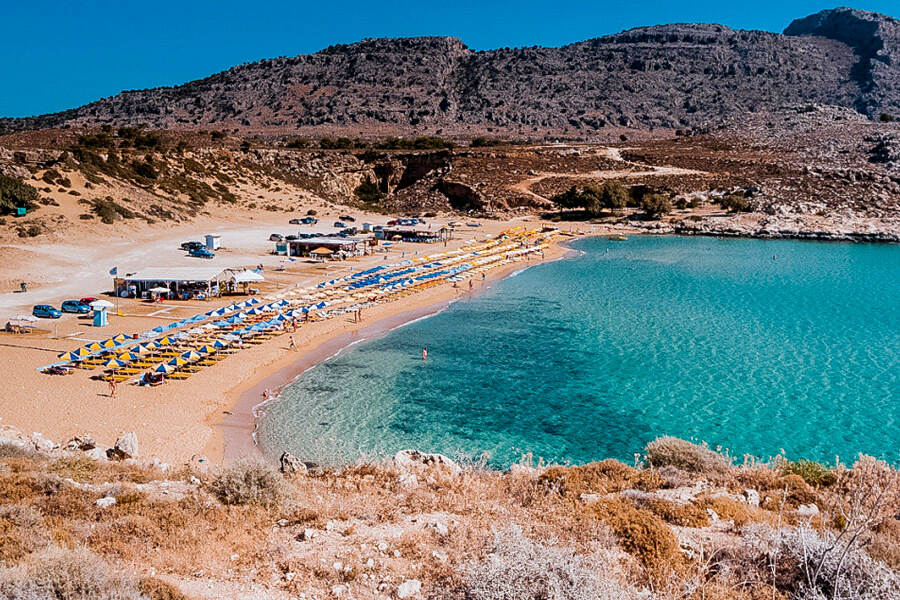 Have you ever found yourself just wanting to take a break from civilization?
You can actually do it at Agathi beach!
You'll find this beach at a little sandy cove 38 km away from Rhodes town, close to Faraklos Castle. Agathi beach is a sheltered beach with calm waters, being a great choice for families with little kids.
To top it off, there are three canteens at this beach, offering umbrellas, seabeds, snacks, and refreshments. This is everything you need to turn on a relaxing mode!
9. Lindos beach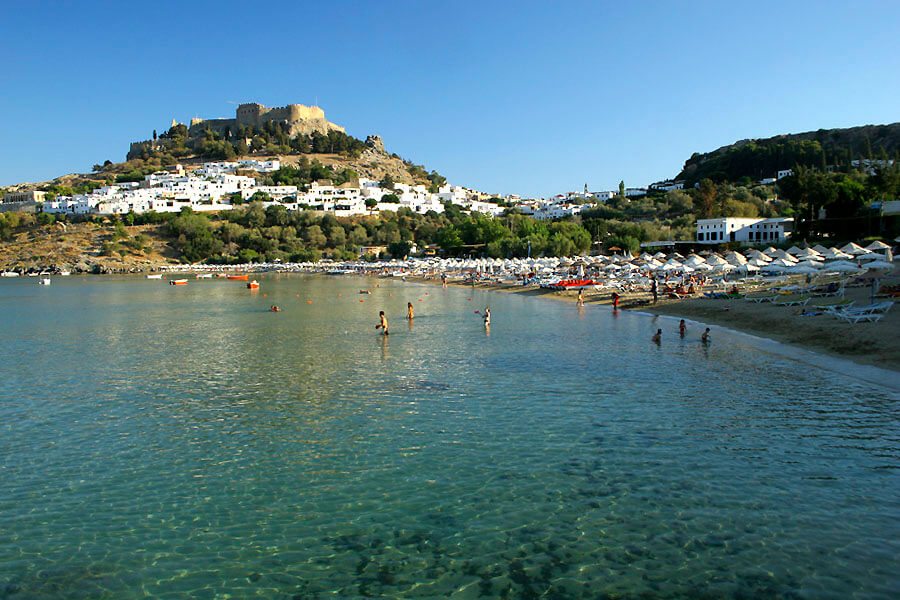 Who else wants to combine swimming with some sightseeing?
We know it is not just us!
At Lindos beach, you can have them both. This is because Lindos beach is close to the historical Acropolis of Lindos, one of the most important archaeological sites in Rhodes. The view to the magnificent Acropolis of Lindos, on the top of the mountain, is amazing!
Are you traveling with little kids?
Then, the best option for you is the right side of Lindos beach, Pallas beach, which has shallow waters, safe for kids.
10. Ialyssos beach Rhodes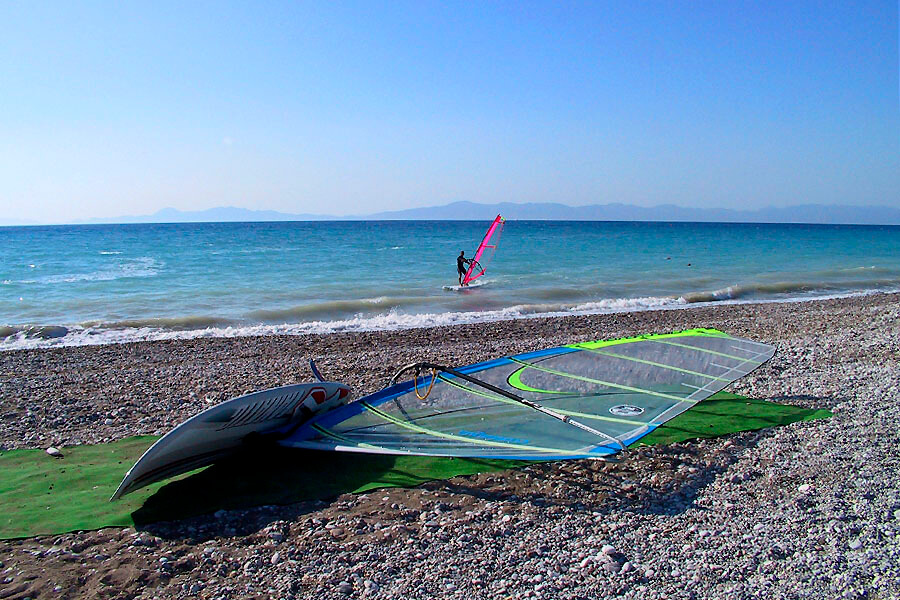 Fact: Ialyssos beach is the second biggest Rhodes beach.
Also, it has a great variety of facilities! Seaside taverns, cafes, gardens, and many hotels create a cosmopolitan scenery.
Another thing about this beach is that it is ideal for swimming and windsurfing. In fact, Ialyssos beach hosts many freestyle competitions, such as the European Windsurfing Championship.
Do you want to learn something interesting about Ialyssos beach?
It has a great historical past. Ialyssos was one of the first towns built in Rhodes around 1,500 B.C. At Filerimos hill, you'll find ruins of the temple of Zeus and Athena, Byzantine remains and many more!
To sum up, Rhodes beaches are so many, there's no way you won't find the perfect one for you!
There is just one thing you have to do. Book your trip to Rhodes and let Rhodes beaches amaze you.
Trust us. It'll all be worth it!