An unforgettable escape to Lindos Rhodes: The 4 best things to do
Have you ever found yourself wanting to get lost at a little picturesque Greek village, away from the crowd? That's exactly what you get at Lindos Rhodes!
So, are you staying in Rhodes Town, craving a getaway? Or, you're searching for a picturesque place to stay in Rhodes?
Either way, Lindos Rhodes is an absolute must!
Located 45 km away from Rhodes town, Lindos village breaths history and culture!
Whitewashed houses, a breathtaking natural landscape and the famous Acropolis of Lindos are some of its highlights.
But, is this all?
You bet it's not!
Lindos just gives you so many reasons to fall in love with it.
We've gathered the 4 best things to do when in Lindos Rhodes and we share the love with you!
Shall we start?
1. Visit the Acropolis of Lindos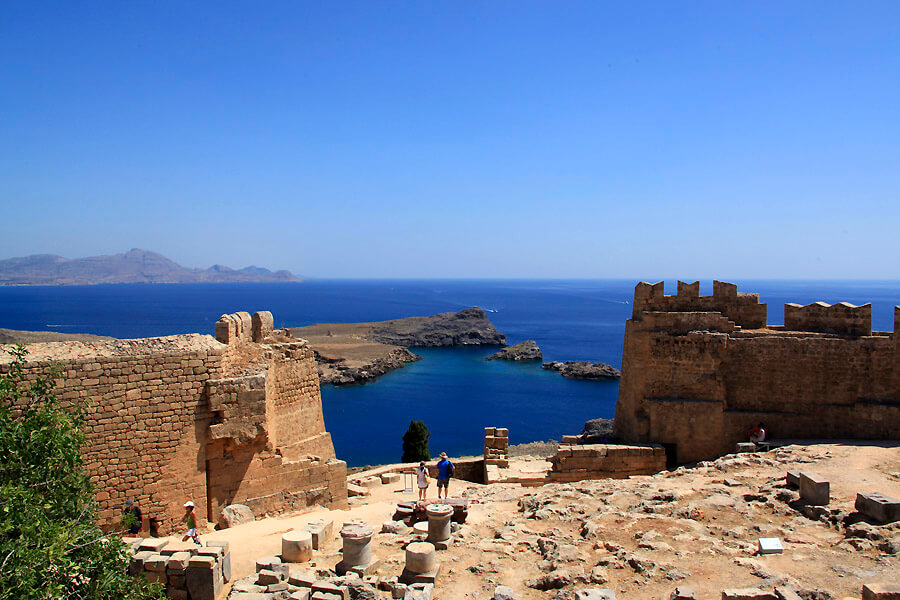 Starting with a classic!
The Acropolis of Lindos is one of the most important historical sites in Rhodes. It's also, probably unsurprisingly, the trademark of Lindos village.
So, let's jump into some historical information!
The ancient town of Lindos was found by the Dorians in 10th century BC. By 8th century BC, it was already a major trading center, thanks to its geographical position. The findings inside the Acropolis of Lindos reveal the glorious past of this amazing place.
There are many wonderful sites to stop by while exploring the Acropolis of Lindos. What's more, a huge Medieval castle, built in the 14th century, used to protect these sites. However, now you can only find the remains of it.
Two of the most impressive sites inside the Acropolis of Lindos are the Temple of Athena Lindia and the Propylaea of the Sanctuary.
The Temple of Athena Lindia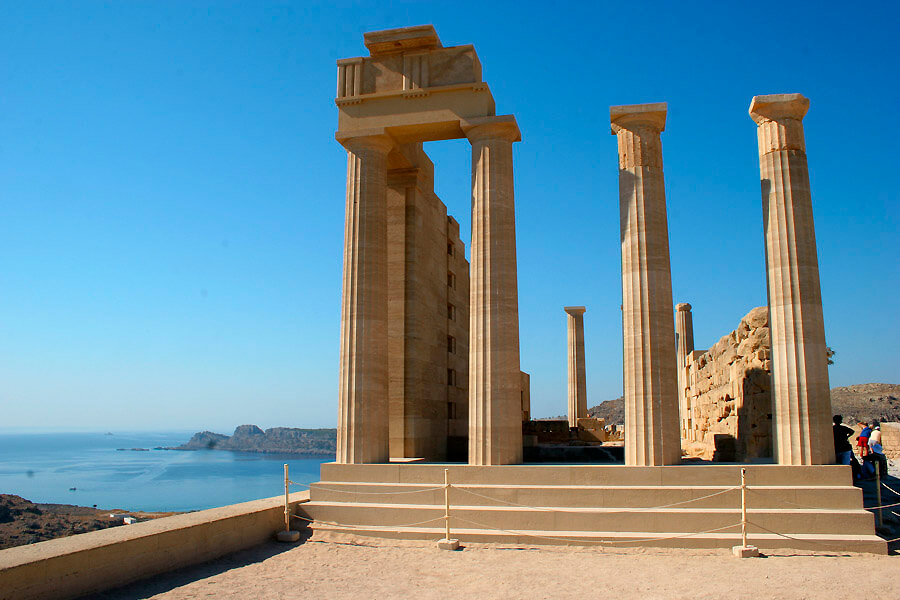 This is a beautiful temple, created in 4th century BC in favor of the ancient goddess of wisdom, Athena. It was actually built on the top of the Acropolis of Lindos, on the remains of an earlier temple.
Inside the temple of Athena Lindia, people used to worship the goddess, offering sacrifices. Today, you'll only find the table used for sacrifices and the base of the statue of Athena.
The Propylaea of the Sanctuary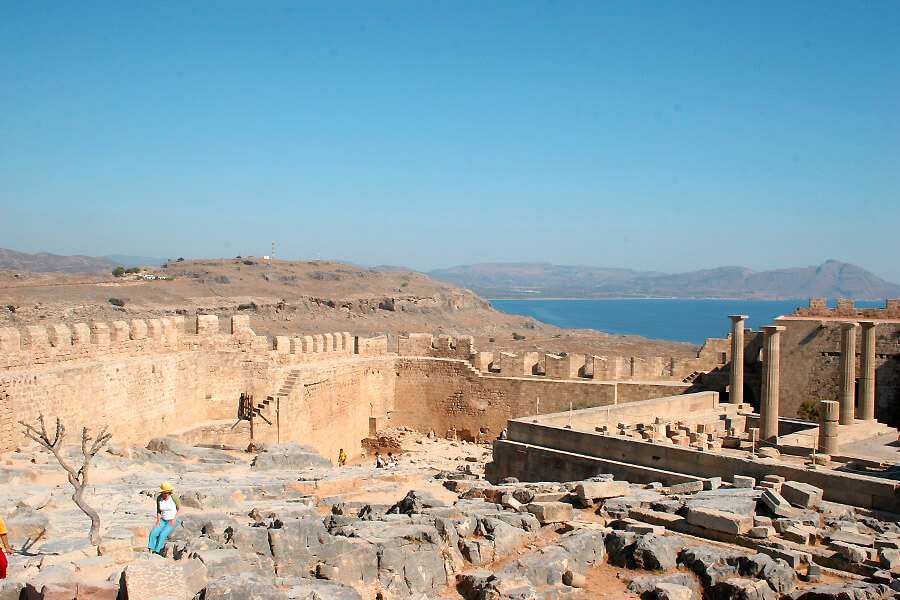 "Propylaea" means getaways in Greek. The Propylaea of the Sanctuary actually consists of a staircase and five-door openings.
At the staircase, there is something interesting. You'll see the relief of an ancient war ship, also known as "trireme", carved on a rock.
Once you reach the top of the Acropolis, you'll stand in awe in front of the amazing view!
Just imagine seeing the whitewashed houses of the village and the deep blue sea, while standing in the middle of the remains of an ancient town.
Amazing, isn't it?
But how can you get to the Acropolis of Lindos?
Truth is, your options vary!
One option is by walking your way up to the Acropolis. The walking distance is 15 minutes, so it's not a big deal!
The other option is to ride a donkey. It will get you to the top of the Acropolis and will cost you 5 €.
As for the entrance fee to the Acropolis of Lindos, it costs 6 €.
2. Stroll around the picturesque Lindos village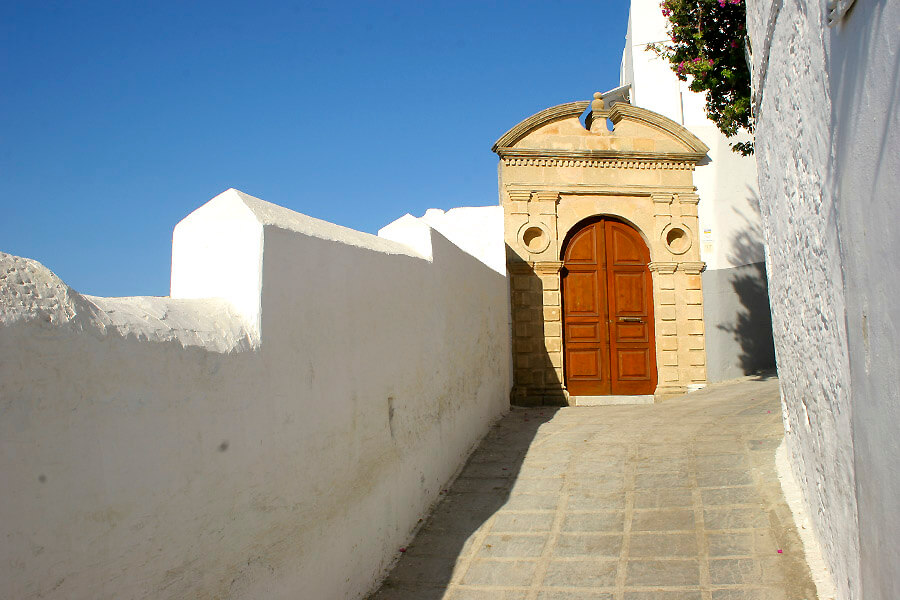 This little whitewashed village is what dreams are made of!
You can actually see the Arabic, Byzantine and Medieval influences at every corner of it.
Its architecture is truly amazing! Pebbled narrow streets, little shops, cubic houses, and arched wooden doors create a magical vintage scenery.
The best thing to do is to walk around the alleyways of Lindos village. But be aware: There's a strong possibility you get lost! This is because these narrow streets were built this way, in order to confuse pirates.
But, don't worry! Getting lost is the best way to explore this picturesque little village.
Strolling around the village, you'll find many Medieval old mansions, owned by captains during the 17th and 18th century. These beautiful houses are built around pebbled courtyards, also known as "votsaloto".
Don't miss to get inside one of them! The interior of these houses is no different than a folklore museum. Painted ceilings, colorful handmade ceramic plates, and carpets are just some of their traditional decorations.
Small shops filled with goodies is another characteristic of Lindos village. There, you can purchase leather sandals, linens, dresses, jewelry, bags and many more. So, don't hesitate to bring some Rhodian treasures back home! What's more, at Lindos, there are some of the best Rhodes hotels!
But, the one thing that you'll fill your camera roll with is hands down, the doors.
Yeah, you read that right!
Picture this. Big arched wooden doors, built in stone cladding, surrounded by pebbled narrow streets. Most of the times, the date of the house's construction is engraved in front of the door.
3. Swim at Lindos beaches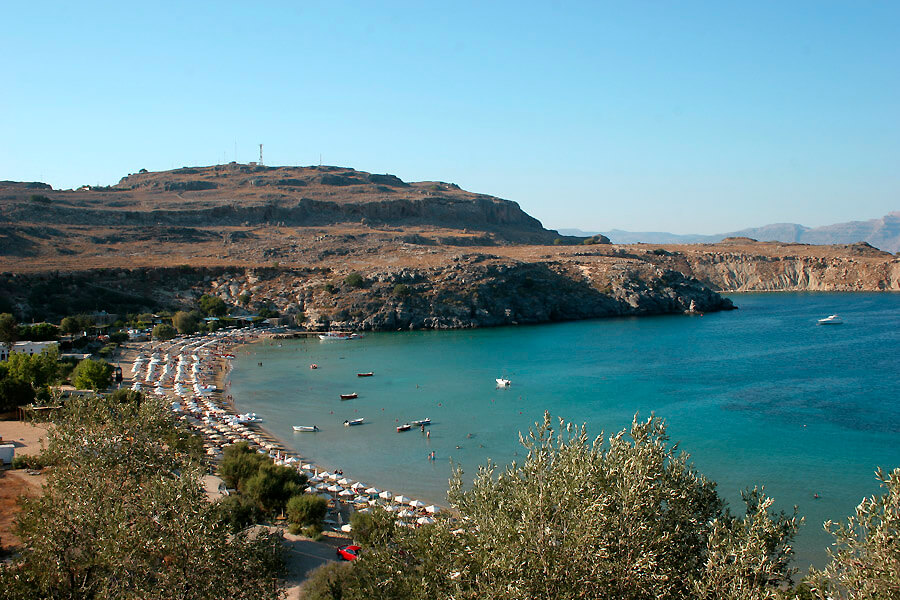 What's better than swimming in emerald waters, surrounded by green hills and having a view of the Acropolis of Lindos?
Not many things, we suppose!
The three most popular beaches in Lindos village are Lindos main beach, Saint Paul's bay Lindos and Pallas beach Lindos.
The best thing to do is to visit them all!
St. Paul's bay Lindos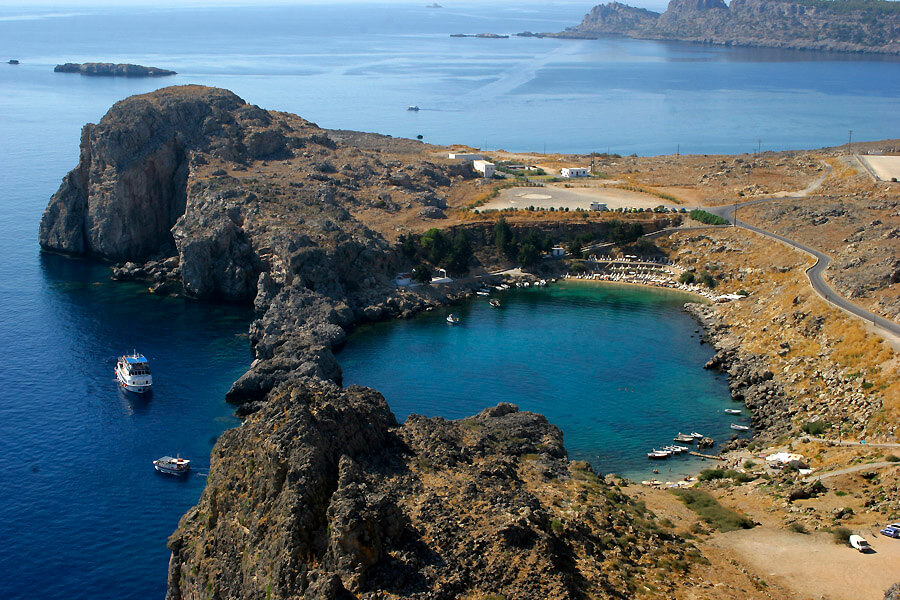 This is probably the most romantic beach in Rhodes!
Why?
It has the shape of a heart! How cool is this?
No wonder why many couples from all over Europe, choose this location to get married. The little white chapel on the beach is indeed a perfect marriage location!
St. Paul's bay actually consists of two bays with rocky coves, ideal for snorkeling. They have both sand and pebbles, while there are also sunbeds to rent. After swimming, you can taste the local delicacies at the seaside taverns.
Lindos main beach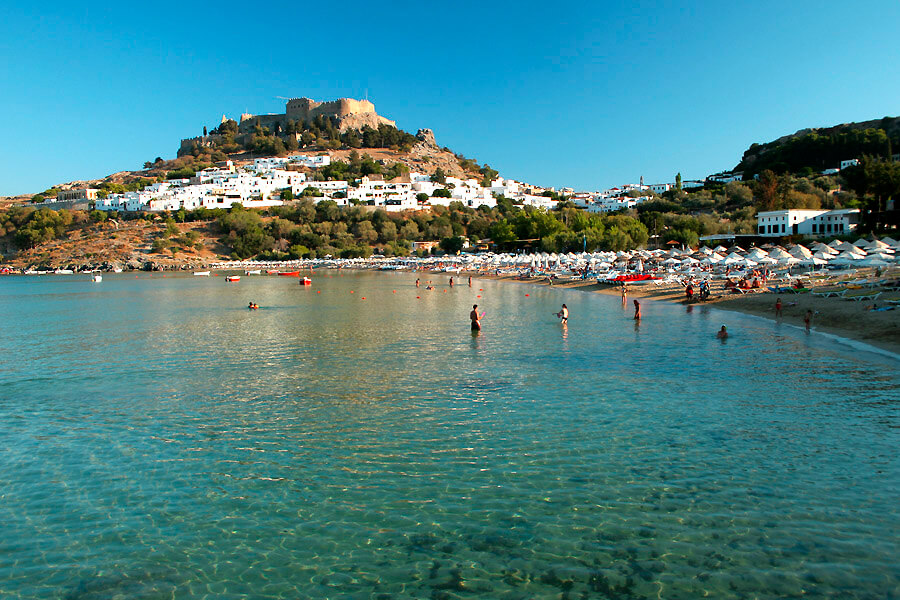 Lindos main beach (or Megali Paralia) is the biggest beach of Lindos and can be easily reached. All you have to do is walk your way down from the main square of Lindos village.
Lindos main beach is a long beach with golden sand and shallow waters. What's more, it's organized, with umbrellas, sunbeds and water sports facilities.
The view is amazing, too! At Lindos main beach you have the perfect view of the Acropolis of Lindos and Lindos village.
And what's a better way to close your day, than eating at one of the fish taverns nearby?
Tip: At Lindos main beach, you can hire small motor boats and pedal boats to explore the sea with your own pace.
Pallas beach Lindos
Pallas beach Rhodes is, hands down, one of the best Rhodes beaches.
And the best part is, it is located in the picturesque village of Lindos!
If you're on a family holiday, this is a great option for you in Lindos. That's because Pallas beach Lindos is a kids friendly beach, thanks to its shallow waters.
The scenery is amazing, too! Just imagine a sandy coast with pebbles and crystal clear water, ideal for diving and swimming.
Sounds good, right?
4. Eat the most delicious food
Now, hear us out!
There's no better chance to eat delicious food, than when you are at a traditional Greek village.
So, as you can probably imagine, one of the best things to do in Lindos is simply to eat!
What are the best Rhodes restaurants to eat in Lindos, though?
Ktima Lindos
Seeking for a place to dine, while enjoying a breathtaking view?
Ktima Lindos is the place you're looking for!
Start with some drinks by the pool, watching the sunset and continue with fresh seafood and meat. You won't be disappointed!
Giorgos Food Cocktail Bar
Combining your food with delicious cocktails is unbeatable, isn't it?
At Giorgos Food Cocktail Bar, you can drink unique cocktails and eat fresh delicious food, such as sandwiches and salads.
Tip: Are you a football lover? This is a great place to enjoy watching a football match on TV, drinking cold beer!
Ambrosia Restaurant
At this small restaurant in the heart of Lindos village, you'll enjoy both local and international dishes.
Meat and fish dishes combined with the perfect wine is one of Ambrosia's specialties! In fact, the staff will recommend the perfect wine match, depending on the food you're going to eat!
Melenos Roof Top Dining
In case you haven't noticed, this is a rooftop restaurant!
The exotic environment, the colorful pebbled floor and the amazing view to the Aegean sea will make you fall in love with this place.
But the most important thing is the food! The dishes at Melenos Roof Top Dining are served exquisitely and are made of fresh Greek ingredients! What's more, the menu changes, depending on the season!
So, have we already inspired you to get lost in the traditional Lindos village?
We hope so because it is definitely worth it!
So, why waiting?
Book your next holiday adventure in Rhodes!