4 islands near Rhodes you haven't heard about (and you really should)
What if we told you that Rhodes is just the beginning of your holidays in Greece?
Well, it's not a secret that the best places to explore are the ones off the beaten tourist trail! But, do you know where to find them?
Small in size, yet huge in beauty, the 4 less known islands near Rhodes will give you a whole new perception of your holidays.
So, we present you 4 amazing islands near Rhodes that have (luckily) managed to stay off the radar!
Are you ready?
Simi, to enter a colorful summer painting
If one thing stands out to you the most, approaching the picturesque port of Simi, it's definitely the houses!
Just imagine colorful neoclassical houses with red-tiled rooftops and little balconies, welcoming you to Simi.
One thing is for sure.
You'll stand in awe in front of the beautiful scenery. The illusion of entering a summer painting is quite strong!
Located in the southern part of Dodecanese Islands complex, Simi is divided into two main areas. "Chorio" (=village) is the upper town and "Yialos"(=seashore) is the harbor area. Given that these areas are very close to each other, almost everything is at walking distance. This means that you can discover picturesque villages and amazing beaches, without going too far from the main town.
Simi has a long history, thus it's not a surprise that there are some pretty interesting things to see. Byzantine Wine Presses and Monastery of Panormitis are two must places to visit while in Simi!
As for the beaches, most of them are in a short walking distance from each other. This means you can explore more than one beaches, at once! Two of the best beaches in Simi are Nos beach and Agios Georgios Dysalonas beach.
Nos beach is one of the most popular beaches in Simi. This beach combines a peaceful atmosphere with many facilities, for a long relaxing day at the beach. Nos is an organized sandy beach with umbrellas and sunbeds.
Agios Georgios Dysalonas beach is one of the most impressive beaches you'll ever be to. The scenery is impressive, as the beach lies under a huge cliff! It's is a pebbled beach, only accessible by boat. If you are into swimming, you'll love this beach, as it is ideal for swimmers!
Halki, to have a taste of paradise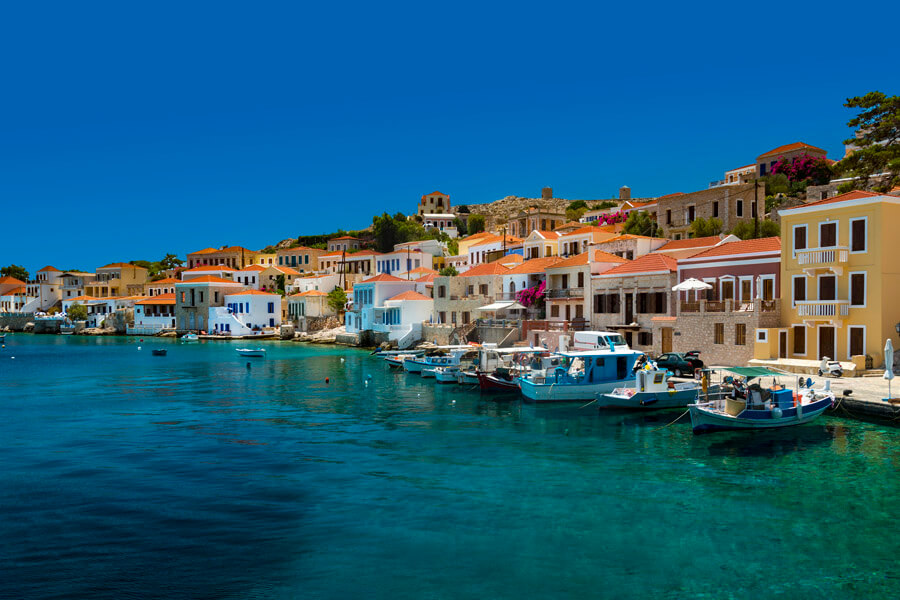 What's your kind of paradise?
If it's a laid back kind of place, where living is slow and the food is amazing, you've just found it!
Halki is hands down, the best option for a relaxing getaway during your Rhodes holidays. The ferry from Rhodes arrives at the port of Halki, in the picturesque main town, Nimborio. One thing that will definitely amaze you at Nimborio, is (once again) the houses. Colorful mansions with big windows and tiled roofs surround the port, creating a unique scenery!
Tip: While at Nimborio, don't miss to enjoy some traditional local food, accompanied with ouzo, at one of the seaside taverns. The best hour to do so is while the sun goes down. The sunset view from Nimborio is simply amazing!
One place in Halki worth exploring is the abandoned Chorio village. At this mysterious village, there are old stone houses, the remains of a cemetery, an old school, and some churches. We know, we know, it sounds spooky. But trust us, both the beautiful natural landscape and the mysterious atmosphere of the area are unique.
Truth is, hiking is one of the best ways to explore the natural landscape of Halki. The mountains behind Nimborio are perfect for hiking.
But, there's more!
If you're up to a challenge, the highest mountain peak of Chalki is at Maestro area and has 593 meters altitude! Just saying…
But, what about the beaches in Halki?
Well, they are stunning and pebbled. Surrounded by virgin natural landscapes, they have crystal clear waters and some of them are organized, too. Some of the best beaches in Halki are Ftenagia, Trahia and Areta, which is only accessible by boat.
Karpathos, to travel back in time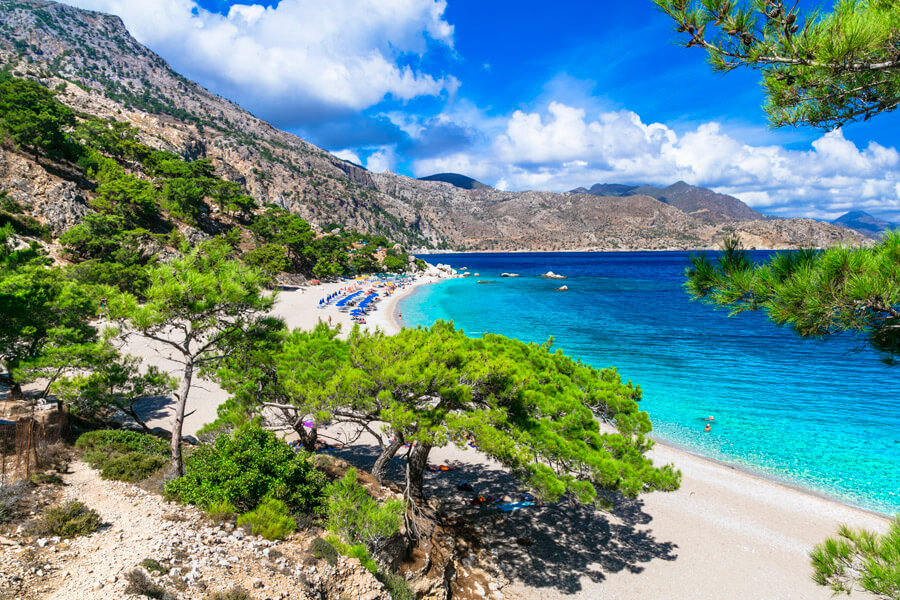 Do you know those places, where time seems to have stopped in the past?
Yeah, Karpathos is one of those places!
Culture and tradition are well kept in Karpathos. If you are someone who loves learning about the special traditions of different cultures, you'll love this place.
Many people still wear traditional costumes in their everyday life, while folk feasts are organized very often. The traditional feasts of Karpathos are some of the most popular in Greece.
What to expect from such feasts? Well, count on folk music, dancing, lots of delicious food and wine. So, if you happen to be in Karpathos during such a feast, don't miss it!
But, don't fall into the trap that Karpathos is just about tradition. No, no.
The virgin beaches of Karpathos are the true gem of the island! It's all about emerald waters, surrounded by breathtaking natural landscapes. One thing is for sure: Karpathos' beaches will blow you away. Some of the best beaches in Karpathos are Amoopi, Achata, and Apella.
At Amoopi beach you'll stand in awe in front of the emerald waters! It is an organized beach and a perfect choice for families with little kids because it's protected from strong winds.
Achata is a sandy beach with small white pebbles and mesmerizing deep blue waters. The natural landscape of Achata beach is amazing! Just imagine a beautiful cove, surrounded by big mountains and lush vegetation (we're talking to you, nature lovers).
The multiple times awarded Apella beach is your exotic beach choice in Karpathos! Picture this: Fine white sand, pine trees, emerald waters, and a mild summer breeze. You're more than ready for Apella beach, right?
Another thing about Karpathos is its villages. All the villages in Karpathos breath culture and history and you'll feel it right away. Olymbos, Aperi, and Othos are some breathtaking mountain villages you shouldn't miss. Every village is a little natural treasure worth exploring, so make sure you do so!
Tilos, to release your senses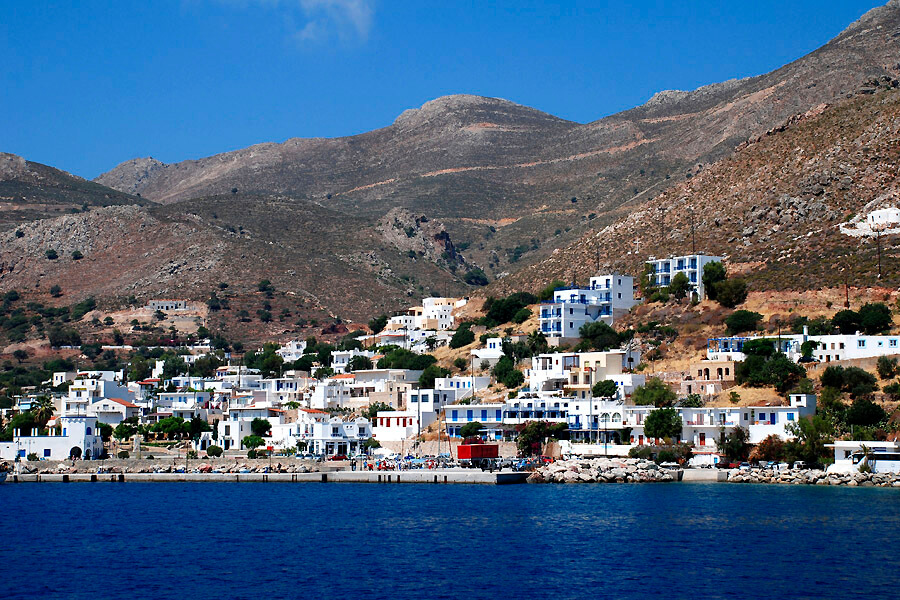 Do you know what's the secret of Tilos?
It has managed to stay off the beaten tourist trail.
So, you know what this means: Endless virgin natural beauty! The secluded atmosphere of the island along with its peaceful vibe and stunning beaches will instantly put you in relaxation mode.
The natural beauty of Tilos is indescribable. Mountains, lush vegetation, flowers, herbs...we could go on and on! No wonder hiking is the best way to explore the virgin nature of Tilos.
While putting miles under your shoes, you're most likely to see partridges. Yes, you read that right! Since hunting is not allowed in Tilos, the birds are familiar with people. This is not a surprise, given that Tilos is a natural shelter for over 150 bird species.
The main town of Tilos is Megalo Chorio, which still keeps its traditional vibe. One of the places worth visiting at Megalo Chorio is the Palaeontological Museum, where you'll see bones of dwarf (!) elephants. Another must is the Medieval Castle, which was built in the 15th century by the Knights of Saint John.
It goes without saying that tasting delicious fresh fish and seafood is a must at all Greek islands. Visiting Tilos comes with great gastronomical delight! Taste local dishes such as mini shrimps, chickpea balls, pasta with seafood and, of course, fresh fish.
By now, you must be wondering: What about the beaches in Tilos?
No sweat, we got you covered! Eristos beach and Agios Antonios beach are some of the best beaches on the island.
Eristos beach is the most popular beach in Tilos. The crystal clear waters, the golden sand and the natural shade of the trees create the perfect conditions to kick back and relax.
Agios Antonios beach is a beautiful pebbled beach with an exotic vibe, thanks to the trees and palm trees.
All in all, the secret islands near Rhodes are a surprise! The best way to explore them is to book your stay in Rhodes and then hop on a ferry from Rhodes, during your stay at the beautiful island.
Trust us, it's something you should put in your bucket list. If you haven't already!